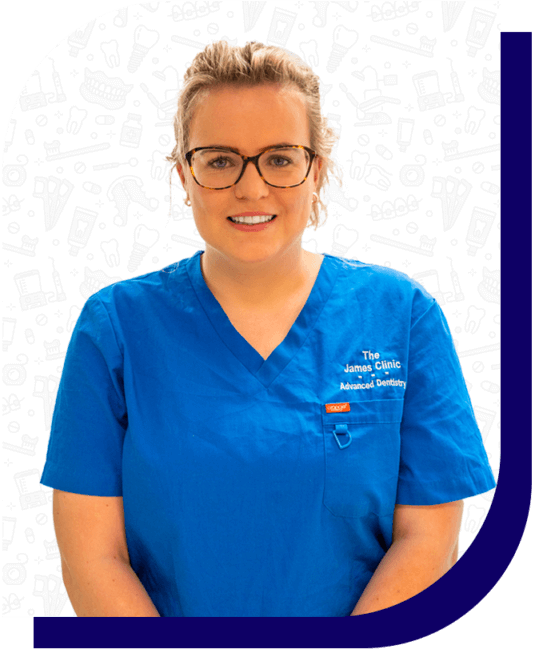 Eilish Gibbons
Dental Hygienist
I specialise in examining patients for signs of oral diseases, such as gingivitis, and provide preventive care, including oral hygiene. I also educate patients about oral health and oral hygiene at home. I complete procedures such as scaling, polishing, placement of fissure sealants, taking of radiographs and administering of local anaesthetic.
I graduated with a higher certificate in Dental Nursing in Athlone Institute of Technology in 2012. I continued my studies completing a BSC in Oral Health Promotion and Dental Practice Management in 2013. I have over 6 years dental experience. I then further progressed my studies by completing a BSc in Dental Hygiene from University College Cork receiving a first class honours in 2020.
I have a particular interest in public health and I am passionate about educating both adults and children on the importance of good oral hygiene. I love working in the dental industry. Working as both a dental nurse and hygienist has provided me with unique opportunities to positively impact the oral health of every person that comes into the dental room.
A career in hygiene requires quick thinking to address preventive issues as soon as they appear. As a hygienist, problem solving is critical for improving serious oral health conditions. I believe great hygienists have empathy for the pain, discomfort or concerns of patients. Responding with empathy requires me to be able to put myself in my patients' shoes, acknowledging my patients' problems, and demonstrating that I understand how my patients feel. I am a very optimistic person.
I believe a great hygienist has the ability to inspire patients with optimism. If nothing else, most patients would prefer not-so-great news about their oral health to be delivered with at least a hint of hope. Optimism helps patients to respond better to oral hygiene instructions and suggestions for improved oral health outcomes.
I have five top tips for good oral hygiene:
Brush your teeth at least twice a day. Try to brush after meals and ideally before bedtime to prevent bacteria from lingering on your teeth overnight. Use the right toothbrush and toothpaste. Gently massage your teeth and gums with a soft-bristled toothbrush, and remember to replace the brush every 3 months.
Floss daily. Food can get stuck in between your teeth encouraging cavities to form.
Limit sweet, sticky foods and sugary drinks. They're high in acid which can wear away at your tooth enamel causing decay and cavities. The best time to indulge in sweets us at the end of a meal since your mouth produces more saliva when you eat, helping to rinse away sticky, sugary residue.
Drink plenty of water. This helps keep your mouth clean by rinsing away food residue and diluting the acids produced by the bacteria in your mouth. The fluoride in water also helps strengthen the enamel on your teeth.
Visit your dentist/dental hygienist twice a year. An oral checkup and teeth cleaning is an important step to keep cavities away.
Five fun facts about me are:
I broke my front tooth ice skating when I was 13
I have 2 dental implants
I struggled with the thought of going back to college after 5 years but it was the best decision I ever made and the quickest 2 years of my life
I laugh at my own jokes
I have lived in Donegal, Westmeath, Dublin and Cork