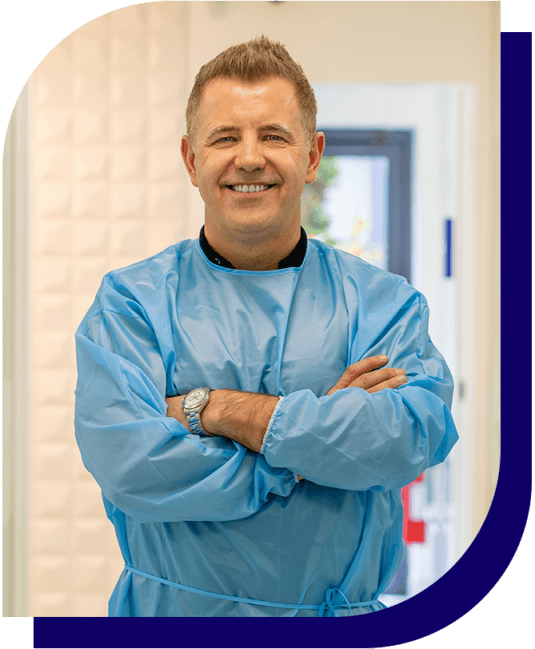 Dr. James Hiney
Clinical Director
Dr. Hiney qualified from Trinity College Dublin with a Ba.B Dent Sc. in 1994. He relocated to London to continue his studies and worked in Private Practice until 2003. He completed memberships in General Practice and developed a keen interest in low force non-extraction orthodontics, Aesthetic Dentistry and Implantology.
On his return to Ireland he continued his interest in complex inter-disciplinary work with his late friend and Periodontal Implantology expert Dr. Nicky Mahon. James travelled to America, Switzerland, Sweden and the U.K to study the most advanced Dental techniques.
Dr. Hiney was also an early pioneer in scanning technology for Dental purposes with Galway University Maths PhDs and Enterprise Ireland, developing one of the first 3D dental scanners, which also simultaneously assessed optimum bracket placement for orthodontic purposes. This commitment to continuing education developed into a Master of Science at Warwick Medical School where Dr. Hiney completed the comprehensive 3 – 8 year MSc programme in 3 years and gained the unprecedented grade of distinction in Orthodontic Theory, distinction in Orthodontic Clinical Treatment and a distinction in his disertation on using dental implants and mini-screws in complex orthodontic cases. Presently, Dr. Hiney is employed by Warwick Medical School where he was awarded an Honourary Clinical and Teaching Fellowship. In this capacity, he corrects principles of orthodontic papers and mentors final year postgraduate MSc students with their dissertation.
This academic position allows Dr. Hiney as clinical director, to ensure that The James Clinic is at the cutting edge of advanced Dentistry. Each clinic has the latest orthodontic treatment, 3D Cerec scanners and Cat Scans for orthodontic assessment, to achieve optimum aesthetic results and guided placement for implants. Dr. Hiney after invitation, spoke on behalf of the Irish Dental Association to the national convention on ethical successful general practice and orthodontics and remains dedicated to best patient care in conjunction with the latest technology.