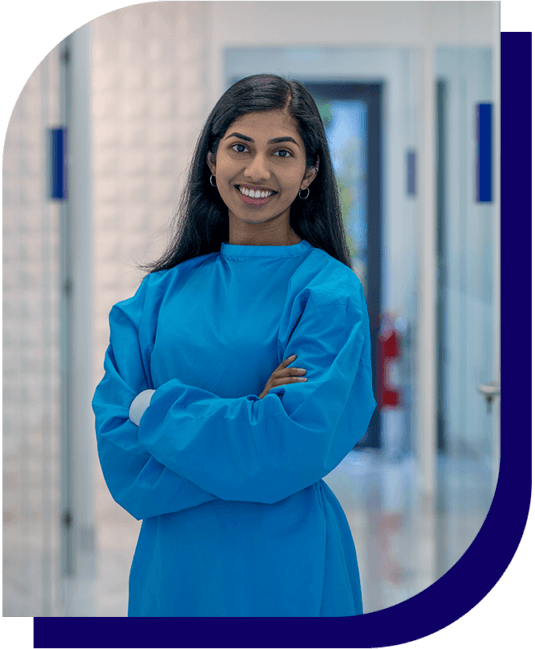 Dr. Iriene Sebastian
Associate Dentist
I am a general dentist with a special interest in restorative and cosmetic dentistry. I provide a range of treatments to my patients including oral examinations. This covers oral cancer checks, fillings, root canal treatments, extractions, crowns, bridges, dentures and elective aesthetic treatments such as veneers and composite bonding.
I got my Bachelor of Dental Science from Trinity College Dublin. I want to provide the most up-to-date and evidence based treatments for patients. Therefore, I am currently pursuing a 3 year Masters in Aesthetic and Restorative Dentistry from the University of Portsmouth. I hope to also do a course in Invisalign in order to provide patients with a wide range of treatment options.
I always had an interest in healthcare as I find it the most rewarding field. However, night shifts and early mornings are not my cup of tea. So, I opted for dentistry where I get to pick my own hours! Also, it's the perfect combo of art and science. You can get as artistic as you want when sculpting a tooth back to its natural anatomy!
Almost every day, I see nervous patients who have neglected their teeth because they hate coming to the dentist (no offence taken). My favourite part is being able to carry these patients forward, rebuilding trust and restoring their confidence in us and in their smile. My advice is to know exactly what you're getting into! Five years of dental school can be quite demanding and challenging. Make sure to do lots of work shadowing if possible. Call into us if you like and see the day-to-day work flow!
I have four top tips for good oral hygiene:
Make sure to have a check up twice a year and a clean with the hygienist at least once a year. This will vary depending on your personal dental needs.
Cavities and gum disease can be silent killers! It's important to catch them early. Often times, by the time you notice it, it may be too late!
Make sure you develop an excellent daily dental routine as advised by your dentist/hygienist. You have to do your bit every day in order to maintain the health of your teeth and gums and for the up-keep of the treatments you receive.
Lastly, keep an eye on your diet – your mouth reflects what you eat.
Five fun facts about me are:
I am of Indian origin and by default I have the best meals at work!
I grew up in two different countries before settling in Ireland and so I have a huge appreciation for different cultures and languages. I am currently in the process of learning a second Indian language.
I love travelling! During college, I got to do dental work in underprivileged areas in Philippines. Now that restrictions are easing up, I hope to spend a few weeks every year exploring different parts of the world while providing access to free dental care to communities in need.
I have a little Schichon puppy called Dora. I would love to bring her into work as a therapy dog but I don't think any of us would get much work done!
In my spare time, I love to paint and write poetry. Maybe someday, if I work up the courage, I hope to publish a collection of my poems.