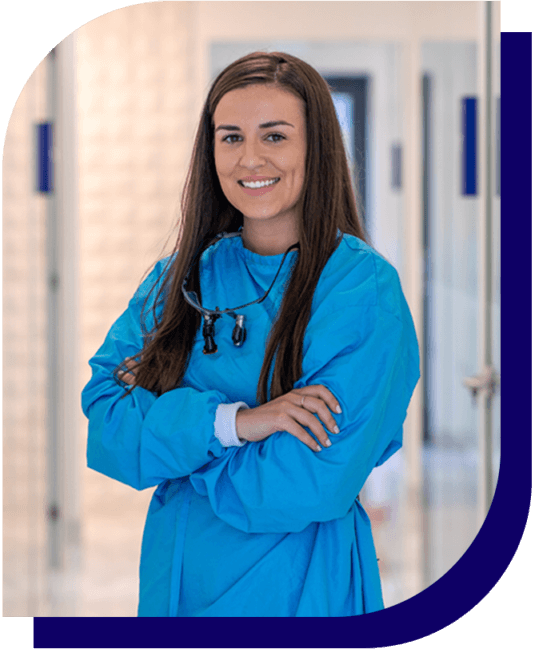 Dr. Kate Tuffy
Associate Dentist
I am a general dentist with a special interest in cosmetic dentistry. My role includes carrying out examinations and forming treatment plans for both adults and children. I provide a wide range of treatments such as fillings, composite bonding, root canals extractions and crowns.
My qualification is a Bachelor of Dental Science and I graduated from Trinity College Dublin. I studied there for five years and really enjoyed it. I am keen to continue my studies throughout my career to keep up to date with new and advancing treatment options for my patients. I hope to do a course in facial aesthetics and Invisalign over the coming months as I am passionate about cosmetic dentistry.
I chose dentistry because I love working with people and I find helping patients to overcome their fear of the dentist very rewarding. I also love giving patients the confidence to smile and be comfortable with the appearance of their teeth. I find that there is a good work-life balance in dentistry so it was the perfect fit for me.
I would advise prospective dental students to shadow and speak to dentists currently working in practice. I think it's important to get an insight into the day to day life as a dentist and decide whether it is the career path for you. I spent time working at a practice once per week during college to make sure I would love it. This was invaluable to me as I learned so much and I hadn't realised that general dentists could provide such a wide range of treatments.
I have three top tips for good oral hygiene:
Attend your dentist for an examination and a scale and polish at least once a year
Floss in between your teeth to prevent decay and gum disease
Use an electric toothbrush. Its less technique sensitive and gives you that dentist clean feeling at home
Five fun facts about me are:
I'm from Mayo!
I love show jumping
I love travelling and have been to Canada, America, Spain & Italy, and hope to travel more in the near future
I enjoy a glass of wine & love meeting friends for nights out
I love skiing holidays & after 3 trips, I still can't ski very well